Industrial and Commercial Paving Company in Dallas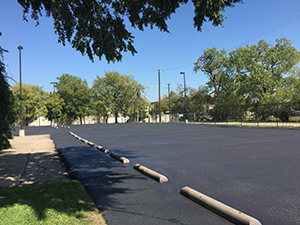 For all commercial paving in Dallas, people call Dallas Paving Company. We have been servicing customers in Dallas and surrounding areas for almost 50 years.
As a long-standing commercial paving contractor in Dallas, we know that image is everything in a business. The condition of your parking lot or driveway is a good indicator of the state of your business. A well paved driveway and parking lot shows your customers that you care about their safety and that you want to protect their vehicles from damage when they visit your premises. If your parking lot or driveway is full of unsightly cracks and potholes, then your customers and other stakeholders will not feel comfortable doing business with you.
New Developments
If you are developing a new building or shopping center, then you will want to partner with Dallas Paving Company. For all commercial paving in Dallas, developers partner with Dallas Paving Company. We have been in the commercial paving business for almost 50 years and we have kept up to date with the latest technological developments in equipment and materials. We employ only the best qualified and highly experienced experts in paving. We also carry enough insurance to give you peace of mind.
We will work closely with you to maximize your space and to make sure that the design of your driveway and parking lot compliment your building design.
Of all commercial paving contractors in Dallas, Dallas Paving Company is the best. We have retained old customers who keep partnering with us in their new developments.
You too will be happy when you partner with us. Our in-house paving experts have experience in handling even the largest commercial projects. In addition, Dallas Paving Company produces a variety of asphalt mixes designed to handle a number of different conditions. All our mixes meet national standards and they are tested by an accredited independent agency to ensure that your paving project looks better and lasts longer.
Dallas Paving Company can design and build customized asphalt solutions for just about any shape and size, including:
All levels of road building.
Tennis and basketball courts.
Golf cart paths.
Runways.
Farm roads.
County highways.
Commercial parking lots.
Industrial parking lots.
Municipal office parking lots.
Apartment complex parking lots.
Driveways
School parking lots.
Church parking lots.
Parks walking and cycling paths.
We create pavements that last and customer satisfaction is our highest priority. That is why most of our commercial paving customers have been with us for almost 50 years. They keep coming back because they know we are reliable and we deliver high quality finished work.
If you need commercial paving in Dallas, call Dallas Paving Company. Within 24 hours of receiving your enquiry, we send one of our qualified and experienced paving contractors to discuss your needs and to evaluate the potential work. Within 48 hours you will receive a detailed project proposal. Whatever the size of the project, our team is experienced to hand it.